Whenever I have an opportunity to meet with prospective clients, I always try to get the clients interested in hearing the "Sideco story." Our philosophy, our history, our products, our process, our team and how we operate. Of course, it is no secret what folks really want to know as soon as possible—"so, what is this going to cost me?" But an investment in your home and who you decide to work with is so much more than a simple cost factor; it is what comes with that price that matters so much.
I wanted to use this newsletter as an opportunity to explain what it is exactly that sets Sideco apart from so many other contractors. Unfortunately, unlike many brands and companies that you might do business with, the contracting business is loosely, if ever, regulated, and companies seem to come and go each year. There is little history behind a company name; workers tend to be subcontractors, who may or may not live locally; and, in worse case instances, contractors engage in business practices that are unfair, if not illegal.
It does not have to be that way. Just as a local restaurant can be a staple of the neighborhood—where you know that you can always find good food and familiar faces—we at Sideco believe that a contractor can be a proud asset for the community, providing not just a valuable service to clients, but also helping to create great job opportunities and a vibrant economy.
A buzz word that is floating around in the industry right now is "fair trade," and I think this concept encapsulates what we believe and practice here at Sideco. It means that we not only abide with all local, state, and federal regulations, but that we also try to create a workplace where men and women can build a valuable skillset and be well-paid while doing that. Here are our company practices and guidelines that comprise our fair trade philosophy:
Abide by all Occupational Safety and Health Administration (OSHA) regulations
Abide by all local regulations, including securing necessary permits
Regular safety training for all Sideco staff
Skill-enhancement training for project managers, in partnership with our vendors, Marvin and Hardie and Timbertech
Career-minded employees who want a stimulating and customer-oriented work environment
401(k) product and company matching of employee contributions
Paid holidays and vacation time
Overtime pay for all work in excess of 40 hours a week
FICA taxes on all wages
Treat all workers as employees, and treat them fairly, even when business may be slow
Always carry workers' compensation insurance
Always carry liability insurance
If some of these items seem like standard operating procedure to you, the sad reality is that most construction contractors do not comply with them. Why pay FICA taxes when that is an additional 15.3% on your bottom line? Why have employees when you can "1099 them" and pay them cash, avoiding the ongoing costs of having dedicated workers (and dodging the IRS and avoiding state taxes)? Why pull permits when you can save a couple hundred bucks? With this poor mentality, is it any wonder why so many homeowners have had bad experiences with contractors?
When you select Sideco as your contractor, yes, it will probably result in a higher price compared to the competition. Carrying liability insurance and workers' compensation insurance together cost Sideco $75,000 a year. Treating our craftsman as employees and offering fringe benefits easily adds an additional 30-40% to labor costs. But despite the higher costs associated with this business model, you as a customer can rest assured knowing that you are supporting a local company committed to excellence and integrity, and that means not "cheating the system," by doing right by our country, state, and most importantly, our employees. I sincerely want every single one of our employees to believe that Sideco is where they can work and grow for the rest of their careers. With your continued support, we can make that a reality for each of them.
Employee or 1099???
My children quickly introduced me to Uber and Lyft (two "ride hailing companies," like taxis) on our family trips. I don't know if it's because they wanted me to keep up with the times, or if they wanted the two apps on my iPhone so that I would be the one footing the bill.
Like me, you may have seen all these articles in the news about lawsuits and arguments about how Uber and Lyft should be treating their drivers. Are they 1099 contract workers, like the companies say they are? Or are they actually misclassified employees, purposefully avoiding that designation because of the higher costs and taxes associated with it?
Having been in the construction industry for over 40 years, I know this debate all too well. To be honest, construction labor—at least in the residential space—has been almost entirely treated as 1099 contract workers ever since residential construction ceased being a well-paid, secure, skilled trade after the 1960s.
There are lots of benefits to company owners if they treat laborers as 1099 contract workers. There are no fringe benefits offered, so labor cost is lower. Labor is only paid when it is needed, so "carrying costs" are minimal if business is slow. Under this labor model, costs are very easy to estimate, as it is a function of work to be completed, not time it takes to complete (this, by the way, results in a perverse incentive to cut corners and be fast, since a worker is paid not for craftsmanship, but for volume).
While a company owner may be tempted by these significant cost savings and the operational ease of only having contract workers, federal and state labor watchdogs have been pretty darn clear in the construction space: laborers that you hire week after week to do the same tasks are employees, not contract workers. Some states are actively pursuing labor misclassification. This article, for example, mentions that New York has begun cracking down, and that in 2014, the state taskforce identified nearly $316,000,000 in unreported wages. That amounts to nearly $50,000,000 in unpaid FICA taxes. And that's just for those who got caught in one state!
At Sideco, we firmly believe that treating workers as employees is not only the right (and legal!) thing to do; we also believe that it adds immense value to your experience as a customer. Employees must be at the job site every day, from 8am to dusk. Contract workers? Well, technically, because they "work for themselves," they can come and go to the jobsite as they please. Employees must be properly trained and insured. Contract workers? They don't get paid for training, so why do it? And insurance costs money, so they forego it. Employees must focus on doing the job right and not cutting corners, and they are incentivized to do so since they are paid by time, not product. Contract workers? Their pay for a job is specified from the start—"I get $X for completing Y square feet of siding … how can I do this as quickly as possible to maximize my profit?"
It's a cliché, I know, but the phrase "you get what you paid for" just rings so true in the residential construction industry. We are so thankful to all of our customers who truly believe that, and understood that by hiring a professional company, they are not only supporting good jobs, but ultimately protecting themselves and ensuring that their home has the best craftsmen working on it.
2020 International Builders Show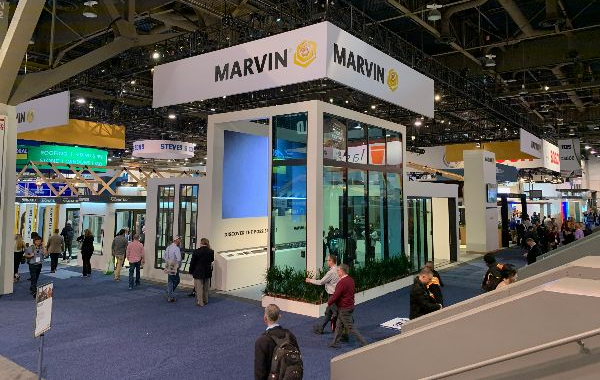 I had the fortune and pleasure of attending the 2020 International Builders Show (IBS) in Las Vegas last month. The IBS is the largest light construction conference and showcase in the world. It is so large that I couldn't even see every exhibit at the convention center, despite being there for three full days.
Sideco's partners—Marvin, James Hardie, and Timbertech—each had amazing exhibits at the show.
Marvin in particular has recently relaunched its brand and marketing, and its exhibit at IBS was just the latest example of the change. Take a look, for example, at just how sharp its advertising has been as of late on Instagram. The booth at the show was, in my humble opinion, the nicest exhibit at IBS, and that's saying a lot given that there were literally thousands of vendors showing off their products.
But don't just take my word for it. The National Association of Home Builders announces 10 awards at each IBS, and Marvin won two of them!
First, Marvin won the "Best Indoor Product" for its new product, called Marvin Skycove. It is a three-dimensional picture window with a built-bench and clean sight lines—perfect for bringing light into your home and creating a cozy sitting area. Check out this video of the Skycove exhibit to learn more if you are interested.Second, Marvin won the "Best Window and Door Product" for its "Marvin Skylight" product. Marvin has proved with the Awaken Skylight that it is not only a renown company with a long history for making impeccable windows; it is also a company constantly innovating and looking to the future. In addition to bringing light into the crevices of your home, the Awaken Skylight also has a host of functions that can be controlled by an app on your phone, including adjusting temperature warmth and brightness of supplemental light. Check out this video of the Skylight exhibit to learn more.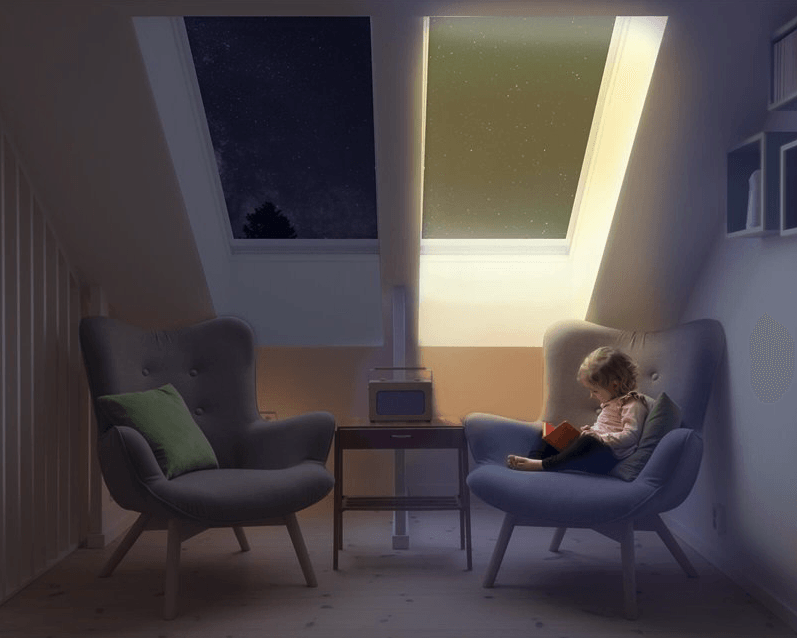 Marvin has always been supportive of ongoing training for our craftsmen who specialize in window installation, so sometime soon in 2020 I hope to send a few of our employees up to Marvin's factory in Minnesota, where they will learn how to properly install both the Skycove and the Skylight. If you think either of these products could help to "lighten up" your home, please give me a call.