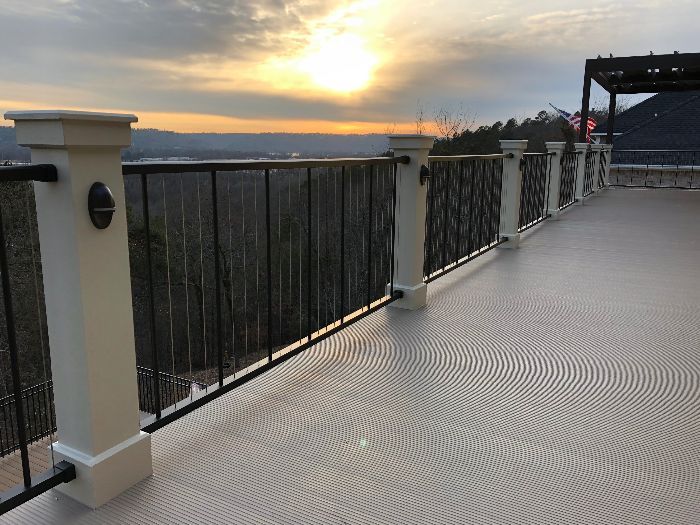 Most of our customers know us for two reasons: we either replaced their siding or we replaced their windows (or both). After being in business for 35 years, and with a team of true artisans and craftsmen who together have a combined experience of over 300 years, we proudly believe that Sideco truly is the best siding and window construction company in the state of Arkansas. And we are so fortunate to have unique and exclusive partnerships with James Hardie Fiber Cement Siding as the state's only Elite Preferred Contractor and with Marvin as the state's only Authorized Replacement Contractor. Each company's products are truly some of the best on the market, and not only will they add value to your home and increase its longevity and durability, but these products will also help to make your property your home. Sideco increasingly finds itself specializing in a third product specialty: outdoor decks, porches, and patios. There seems to be a newfound love for turning folks' yards (and especially their backyards) into oases of entertainment and relaxation. With Sideco's help, we can basically design and build a structure that allows you to do everything outside that you would have done in your kitchen, dining room, living room, or man or woman cave. Want to have a built-in custom table and bench that always looks pristine and can sit 14 people? We can build that. Want a waterproof patio cover that protects your 52" LCD TV while you watch Sunday football on a cool autumn day while your grill brats and veggies on your built-in gas stove with custom stone work? We can build that. Do you want non-slippery custom decking and lighting built around your pool or hot tub? We can build that. Want a custom-made gas fire pit under a covered patio so that friends and family can still roast marshmallows even on a cold, drizzly night? We can build that. Do you want a pergola up which jasmine or grapes can eventually grow, creating a lush, green retreat for breakfast before a hectic workday begins? We can build that, too. What Sideco especially likes about its growing expertise in outdoor entertainment is that there really are no limits to your options. With siding and windows, you must largely work with the walls and existing window openings that your home already has; but with a backyard, almost anything is possible. We've even designed and built custom decks that can handle the hilly terrain of Little Rock and Northwest Arkansas, sometimes having as many as 4 separate levels to a deck that hugs a sloping landscape. In this special issue of the Sideco newsletter, we want to highlight various aspects of the outdoor entertainment, as you consider whether this is the right investment for you. As always, if anything interests you, you are welcome to give me a call or stop by our showroom for a free consultation on the endless possibilities that we can bring to your yard.
What is Timbertech Composite Decking?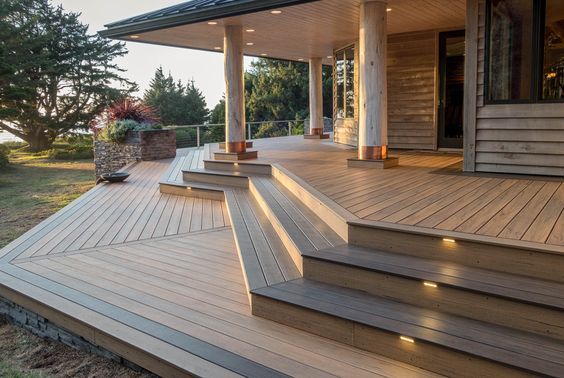 Just as Hardie Fiber Cement Siding is a long-lasting, high quality alternative to wood siding, so too is Timbertech a long-lasting, high quality (and striking!) alternative to wood decking. Both products speak to Sideco's purpose: we sale and install forever products to make forever homes. Wood decks look great immediately after installation ... and then then the problems begin to arise. You might be surprised by how many decks I've seen that look 20 years old but that are actually only 1 year old. If the sun beats down on your deck, or if the wood used isn't of the highest grade, or if part of the deck comes into contact with water on the ground or traps water on the surface, or if the deck isn't properly fastened to the house, or if the deck is not re-stained and re-coated consistently, then I can guarantee you that a wood deck will have problems. If several of these conditions arise then I can further wager that a wood deck will soon face catastrophic failure. Timbertech Composite Decking alleviates all of those issues. It is structurally engineered to last decades. It resists mold, mildew, and rot. It doesn't warp and remains cool to the touch, even on scorching hot days. It never loses its sheen. And, perhaps most importantly, with its endless design and color options, it simply looks amazing and can match any home's style. Below, you will see some of Sideco's recent deck projects, and below that, you will see some designs for outdoor entertainment spaces that we really like and hope to replicate at our clients' homes. Enjoy the pictures, feel free to dream big about your backyard, and when you are ready, please reach out to me to begin planning that relaxing and fun oasis you've always wanted!View more
More Bang for Your Buck $$$
In the past, energy efficiency was a primary focus of home remodeling. Many of my clients in the 1990s would ask me about the R value of our siding and window installation. While still very important, it seems that preferences have changed with the times. Today, a surging focus of home remodeling is creating an outdoor living space and oasis. Outdoor living space, such as covered patios and decks and porches, have been and still remain one of the most in-demand features of new and remodeled homes, according to the quarterly AIA Home Design Trends Surveys. And I simply get this sense myself based on my own experiences—watching HGTV, reading home builder magazines, and, ultimately, getting more interested phone calls from homeowners. Creating an amazing and one-of-a-kind outdoor living space will not only help you and your family to enjoy your home more; it can also be a great investment. While we might complain here and there about the stifling heat or bitter cold in Arkansas, on the whole, we are graced with the perfect weather for outdoor entertainment. Adding outdoor living space then is a cheaper way to "expand your living space" without having to actually expand your home's conditioned space, which can be much more expensive on a cost per square foot basis. While it is our hope that, after making a large investment in outdoor living, you enjoy it for many years to come, re-sale value is certainly something to consider. Our belief is that the surest way to sell your home quickly and for top-dollar is to have the best home on the block (if not the entire neighborhood!). Oftentimes, outdoor living spaces can deliver that "wow factor" that differentiates a home from another similar one down the street that is also for sale.
Endless Possibilities to Design Your Dream Outdoor Space
We cannot emphasize enough why we love outdoor entertainment spaces in Arkansas: The weather is typically nice. You can "extend your living room" at a fraction of the cost of expanding your actual indoor space. You add value to your home. And, ultimately, you create a space for future memories with friends and family, or, when needed, a personal space just for you to unwind and relax. These are some designs that we think are gaining traction right now. Which ones do you like for your home?View more
Outdoor Living—An Affordable Investment
Ultimately, though, it's not so much resale value we should focus on when considering a large home improvement investment. After all, the primary purpose should be to enjoy the investment for many years to come, especially with friends and family. So, the more important question is: what can my household afford to do here? In all my 40 years of working in the home improvement industry, this is the one question a customer has never not asked me: "So, how much is this going to cost?!" While there is a straightforward answer to that question—X amount of dollars—the "relative cost," if you will, really depends on a host of factors, namely financing and inflation. The majority of Sideco's customers arrange financing for their home remodeling projects, and with that financing, the cost of X becomes X/15 for 15 years at Y% interest, for example. I.e., the cost of X becomes much more reasonable as a long-term investment that is handled bit by bit by as a small percentage of your household's annual income. And with inflation, that fixed payment also becomes "less" as (hopefully!) your income rises. So, if the cost of a major home improvement project shocks you, we encourage you to think instead about its cost in terms of financing, especially with interest rates being so low today. Our clients typically secure financing through three routes:
Traditional bank financing, obviously, is the first option, and Sideco partners with a few local banks here in Arkansas—Arvest, US Bank, and Iberia. Today, for example, as I write this, our banks are offering home equity loans with interest rates of 4% to 7%. With a term and amortization of 15 years and an interest rate of 5%, a $50,000 investment in outdoor living will cost your household $395.40 a month. So, just ask yourself: is having your dream backyard and outdoor living space worth $395 a month, especially if you can recoup much of that investment when the house is sold?
A second option that we have seen more of lately is personal unsecured loans. Unsecured loans based solely on a loan recipient's credit score seem to be more common today. While the interest rate will be higher than traditional bank financing, applying for, securing, and funding the loan is oftentimes much easier and quicker than traditional bank financing.
Lastly, we have seen dozens of clients turn to their brokerage and investment firms to secure home improvement loans. In this case, the loan would be backed by the assets of your investment portfolio. I've been really surprised by how competitive the terms are compared to traditional bank financing and highly encourage clients to explore this option, too.
Take Your Time and Explore Your Ideas
If having an outdoor entertainment space for the spring, summer, and fall of 2020 is on your list, we encourage you to start exploring ideas this November and December.
Visit Pinterest. Go to TimberTech.com. And, to see the "real deal," stop by the Sideco Village Showroom, where we have real mock-ups of patios and decks that you can see, touch, and feel.
When you are ready, I and the Sideco team are more than willing to meet with you (at no charge, of course) to discuss your vision and to provide a cost estimate, with options for affordable financing. You can contact me through our website form or call me directly at 501-851-1089. You can also email me at Jimmy@Sidecoinc.com.